Background

The All Terrain Armored Transport (AT-AT) walker, also known as the Imperial Walker, was a major part of the Galactic Empire's army. It was one of the most heavily armored land vehicles in the Imperial Army, but was also known for its relatively slow speed
The AT-AT walker was a behemoth of a war machine, standing at a height of 22.5 meters. The quadrupedal walker closely resembled ancient beasts of war, or even a giant legendary beast from the dark side of the Force. Designed for the dual purpose of crushing and demoralizing enemy forces, and also serving as a transport for Imperial troops and light vehicles, the AT-AT was among the most awesome vehicles in the Imperial Army inventory. Its intimidating and powerful presence often earned it the distinction of being the first vehicle into a combat zone.
Ship Type: Walker
Class: All Terrain Armoured Transport (AT-AT)
Crew: 3 + 40 troops and 5 Speeder Bikes OR 2 AT-ST

MDC BY LOCATION:

Main Body 900
Head 250
Neck 220
Upper Legs 250
Lower Legs 275
Feet 150
Laser 125
Blasters 75
Drive Train 450
Armour - Ignores attacks that do 40md points of damage or less. Anything more than 40md applies all damage done.
Speed

Walking - 60kph
Range- 1000km
Statistics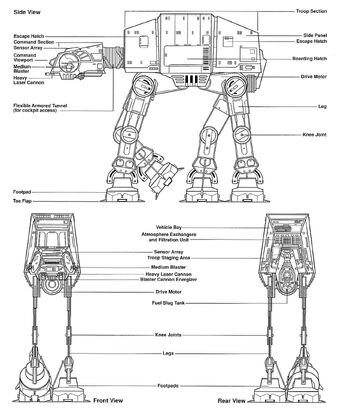 Height - 22.5m
Length - 20.6m
Cargo - 1 ton
Cost - na
Weapons

Weapon - Heavy laser Cannon (2)
Purpose - Anti-Vehicle
Range - 3km
Damage - 2d4x10+10 each or 3d6x10 per dual blast
Rate of Fire - Equal to gunners attacks
Ammo - unlimited
Bonuses - +2 strike

Weapon - Medium Blasters
Purpose - Anti-vehicle
Range - 1km
Damage - 1d4x10+5 each or 2d4x10+10 per dual blast
Rate of Fire - equal to the gunners attacks
Ammo - unlimited
Bonuses - +2 strike
SYSTEMS OF NOTE:

Targeting Systems
Communications (orbital)
Standard Information Package
Basic Sensors (Thermal 2000m, Radar 150km)
COMBAT BONUSES:

Use vehicle combat training
Stomp - 3d6x10
REFERENCES USED IN THIS DESIGN

Star Wars RPG R&E(West End GAmes)
Wookiepedia (http://starwars.wikia.com/)
Community content is available under
CC-BY-SA
unless otherwise noted.