Model Type
- Fire Warrior Armour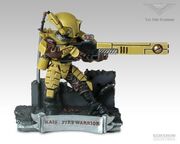 Class - Exo-skeleton armour
Crew - 1
MDC By Location
Main Body - 200
Arms - 95
Hands - 35
Legs - 120
Feet - 50
Head - 75
Note - the head can only be hit by a called shot and is -3 to strike.
AR - 18 (body armour)
Armour - Stops all standard rounds upto and including 12.7mm/.50cal. Explosive and ramjet rounds are still effective
Speed
Running - +10 to characters spd
Leaping - Use standard rules for characters
Statistics
Height - +3 inches
Length - +6 inches
Width - +6 inches
Weight - 200 lbs
PS - +5 to warrior ps and it becomes augmented
Power System - Battery cell
Weapons
Each Fire Warrior Carries a Pulse Rifle
Some may carry a Pulse Carbin instead.
Officers may also have additional non-weapon equipment
See Weapons List (to be added later)
Bonuses and Penalties
-20% to prowl
-10% to swim
Systems of Note
Life Support and monitor system
Targeting system - +1 strike
communications - range 300km
References Used
Warhammer 40K
Community content is available under
CC-BY-SA
unless otherwise noted.