Background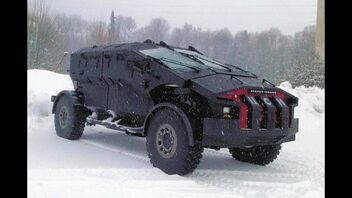 To be written
Model Type - Groundtronics Armadillo
Class - Armoured ATV
Crew - 1 +3 Passengers
SDC By Location

Main Body - 390
Wheels (4) - 75ea
Passenger Compartment - 150
Engine COmpartment - 180
AR - 12
Armour - Stops up to and including the equivalent of standard 15mm rounds.

(For MDC divide SDC by 3)

Speed

Ground - 160kph over open terrain, 80kph over rough terrain maximum.
Range - Driver endurance if nuclear and Solid Oxide, 600km on fossil fuels
Statistics

Height - 2.3m
Length - 5m
Width - 2.3m
Weight - 1.2 tons loaded
Cargo - 200kg
Power System - Nuclear, Solid Oxide, Fossil fuels
Cost - 8 350 000 nuclear, 4 250 000 solid oxide, 95 000 fossil fuels (divide by 10 for credits in Rifts)
Bonuses

Combat Driving
Systems of Note

Standard Information Package (Speedometer, Tachometer, Temp gauge etc)
Inertial mapping and GPS system
References Used

Wikipedia
Community content is available under
CC-BY-SA
unless otherwise noted.