Background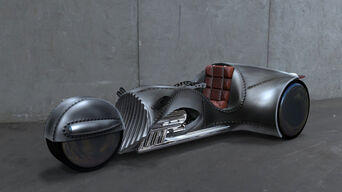 A custom built trike (in real life built for William Shatner of all people), the Rivet boast high speed comfort for a bike. Meant for cruising and not performance it out does even the best Harley for cruising the highway.
Model Type - Rivet
Class - High Speed Trike
Crew - 1
SDC By Location

Main Body - 200
Engine - 130
Wheels/Tires (3) - 50 ea
AR - 6
Speed

Ground - 450kph
Range - 300km
Statistics

Height - 1m
Length - 4.8m
Width - 1.8m
Weight - 575kg
Cargo - minimal pilots belongings
Power System - gasoline engine rated at 500+ hp
Cost - 100 000
Systems of Note

Standard Information Package
References Used

none
Community content is available under
CC-BY-SA
unless otherwise noted.