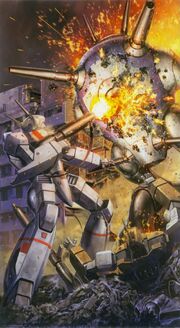 Playing the exciting mecha of Robotech using the Flightpath system (the system used by Star Wars X-wing and Star Trek Attack Wing)
Special Rules -
Before the setting the dials Stage, the VF-1 Player must choose what "mode" they are in. Fighter, Gerwalk, or Battroid. Then that is the stats card and dial they must use for that turn.
The Astromech and Crew slots of the Recon Regult are meant to only give the unit the abilities of those upgrades not actual "crew"
In general all upgrade cards from X-wing can be used to fill the upgrade slots of the mecha being used.
UEDF
VF-1A Battroid - http://www.worldofjaymz.ca/rtxwing/VF1A_battroid_for_xwing.jpg
VF-1A Gerwalk - http://www.worldofjaymz.ca/rtxwing/VF1A_gerwalk_for_xwing.jpg
VF-1A Fighter - http://www.worldofjaymz.ca/rtxwing/VF1A_fighter_for_xwing.jpg


VF-1J Battroid - http://www.worldofjaymz.ca/rtxwing/VF1J_battroid_for_xwing.jpg
VF-1J Gerwalk - http://www.worldofjaymz.ca/rtxwing/VF1J_gerwalk_for_xwing.jpg
VF-1J Fighter - http://www.worldofjaymz.ca/rtxwing/VF1J_fighter_for_xwing.jpg


VF-1S Battroid - http://www.worldofjaymz.ca/rtxwing/VF1S_battroid_for_xwing.jpg
VF-1S Gerwalk - http://www.worldofjaymz.ca/rtxwing/VF1S_gerwalk_for_xwing.jpg
VF-1S Fighter - http://www.worldofjaymz.ca/rtxwing/VF1S_fighter_for_xwing.jpg




Zentraedi
Standard Regult - http://www.worldofjaymz.ca/rtxwing/standard_regult_for_xwing.jpg
Veteran Regult - http://www.worldofjaymz.ca/rtxwing/veteran_regult_for_xwing.jpg
Elite Regult - http://www.worldofjaymz.ca/rtxwing/elite_regult_for_xwing.jpg


Lt Missile Regult - http://www.worldofjaymz.ca/rtxwing/lt_missile_regult_for_xwing.jpg
Hvy Missile Regult - http://www.worldofjaymz.ca/rtxwing/hvy_missile_regult_for_xwing.jpg
Recon Regult - http://www.worldofjaymz.ca/rtxwing/recon_regult_for_xwing.jpg


Glaug - http://www.worldofjaymz.ca/rtxwing/glaug_for_xwing.jpg