Background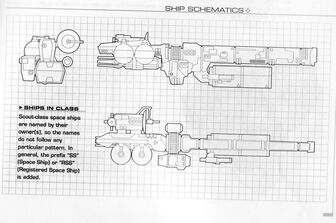 Coming soon
Affiliation - Independent
Model Type - Scout Ship
Class - Scout Ship
Crew and passengers - 120 total
MDC By Location

Main Hull 15 000
Engines 15 000
Cargo Module 6 000
Crew Section 6 000
Shield 160 (regenerates every melee)
Armour - stops all standard rounds upto and including 25mm. Explosive and ramjet rounds are still effective.
Speed

Space - 800kph
Range - 4000 hours (167 days)
Statistics

Height - 86.3m
Length - 345.0m
Width - 40.0m
Weight - 800 tons empty, 1000 tons loaded
Cargo - 20 000 cubic meters
Power System - 1 x 16 MW drive, 1 x 3400 KW powerplant
Cost - 16 million credits
Weapons

Weapon Type - Point defense system
Primary Purpose - point defense
Range - 800m
Damage - 2d4x10
Rate Of Fire - automatically attacks anything in range upto 3 times per melee
Payload - unlimited
Bonuses - 0
Additional Combat Bonuses

-5 dodge vs capital ships
Cannot dodge attacks from fighters and mecha
Systems of Note

Sensors - Range 2km, -15% to sensory equipment skill rolls
Communications - Range of 10km, -15% to radio skill rolls
Targeting System
Combat Computer
Life Support System
Radiation Protection
Vacuum Protection
Escape Pods
Autopilot
Satellite uplink (increases communications range by x1000)
Back up systems (communications, life support, targeting and sensors)
References Used

Jovian Chronicles Mechanical Catalogue
Community content is available under
CC-BY-SA
unless otherwise noted.