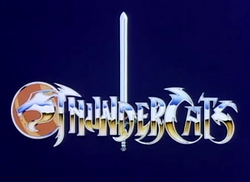 This was a pretty cool show to watch as kid regardless of it's cheesyness. A 'sister" show was Silverhawks. Good times....
That said.....Thundercats is a stand alone setting but can be used in a Palladium setting like Alien Unlimited and Phaseworld. In both cases I would suggest putting it in a relatively unexplored area of the Milky way or Thundercloud galaxies respectively. The original show showed them to not really have FTL capability but they did have high technology to some degree. This would allow them to interact relatively well with "visitors" but not be able to venture forth and do to much influencing on the rest of the setting.
MDC notes will be present where necessary.

Characters

Lion-O
Panthro
Cheetara
Tigra
Mumm-ra

Thundercat Racial Template - https://worldofjaymz.fandom.com/wiki/Thundercat_Racial_Template
Vehicles
Thundertank - https://worldofjaymz.fandom.com/wiki/Thundertank
Community content is available under
CC-BY-SA
unless otherwise noted.